MUTU SUSU SEGAR DI UPT RUMINANSIA BESAR DINAS PETERNAKAN KABUPATEN KAMPAR PROVINSI RIAU
Abstract
Milk as liquid food has a high nutrient content like protein, fat, vitamin, mineral and other substances that needed human body. Total production of fresh milk in UPT Ruminansia Besar Dinas Peternakan in KamparRegency is about 5 -6 liter per day. However, there isn't information about the quality of fresh milk yet. The objective of this research was to determine the quality of fresh milk in terms of nutritional value, pH, sensory properties (taste, aroma and colour) and mastitis test. Results of the research showed that the nutrient content of fresh milk was 92,35 % .±. 0,11 moisture, 1,6 % .±. 0,37 fat, 3,87 % .±. 0,99 crude protein, 0,91 %± 0,01 ash, pH value was 6,85 .±.0,Q4. Sensory evaluation from 15 untrained panelist showed that normal taste (3,9), milky aroma (3,8) and white in colour (3,4). Subclinic mastitis test indicated that the total of leukocyte in fresh milk was in trace (I) criteria. Most of these parameters matched to the Indonesian quality standard SNI 01-3141-1998 about quality standard of fresh milk except fat.


Keywords
fresh milk, nutritional Niue and mastitis.
DOI:
http://dx.doi.org/10.24014/jupet.v5i1.277
Refbacks
There are currently no refbacks.
Jurnal Peternakan 
has been accredited by Sinta 3 : Number 158/E/KPT/2021
Starting from Vol. 18 No. 1 Year 2021 to Vol. 22 No. 2 Year 2025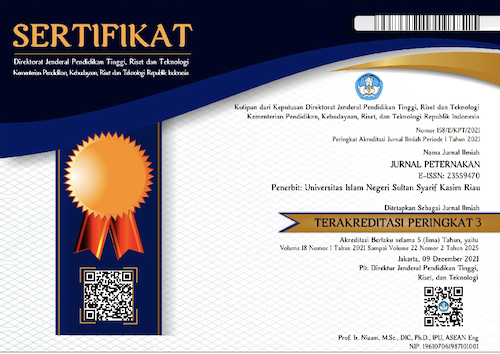 Jurnal Peternakan Indexed By:

Creation is distributed under the 
Creative Commons Attribution 4.0 International License
. 
View Mystats