PENERAPAN ASPEK TEKNIS PEMELIHARAAN SAPI POTONG DI DESA BAGAN SINEMBAH KECAMATAN BAGAN SINEMBAH KABUPATEN ROKAN HILIR
Abstract
This research aims to investigate applied tehnical aspects of farmers keeping beef cattle in Rokan H:i1ir Regency, consists; breed selection. feed giving, management housing, health management and keeping management. This research was done in july '1fX!7 in Bagan Sinembah Village, Rokan Hilir Regency, Riau Province with survey method. Data was collected by using, simple random sampling and descriptive analyze used to know percentage, mean and standard deviation. The result of this study was showed that farmers in Bagan Sinembah Village not good applied tehnical aspects of keeping management beef cattle because they were assumsed., keeping beef cattle just as a job side, a saving and keeping management was done by traditional with
ekstensifsystem.


Keywords
Beefcattle, keeping management, tehincal aspects
DOI:
http://dx.doi.org/10.24014/jupet.v4i2.272
Refbacks
There are currently no refbacks.
Jurnal Peternakan 
has been accredited by Sinta 3 : Number 158/E/KPT/2021
Starting from Vol. 18 No. 1 Year 2021 to Vol. 22 No. 2 Year 2025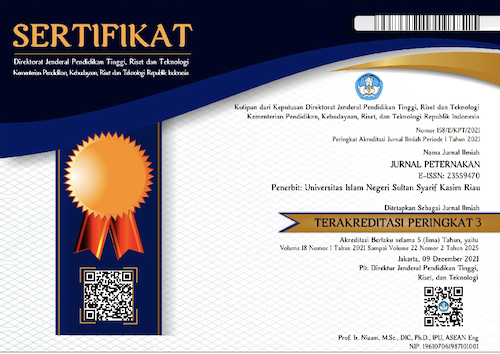 Jurnal Peternakan Indexed By:

Creation is distributed under the 
Creative Commons Attribution 4.0 International License
. 
View Mystats