RESPON PENAMBAHAN MINERAL KALSIUM, PHOSPOR, MAGNESIUM DAN SULFUR TERHADAP KARAKTERISTIK CAIRAN RUMEN PADA TERNAK KAMBING LOKAL
Abstract
Microbial growth and various fermentation processes in the rumen require an adequate supply of minerals. An experiment was conducted to detennine rumen fluid characteristics of goal They were randomly allocated into 4 treatments in a Randomized Block Design with 5 replications. Treatments were: A .. forages (natural grasses, gliriddia and leucaenJl) and concentrate (rice brand, com grain and coconut meal); B '" ration A+Ca+P; C '" Ration A+Ca+P+Mg; D =ration A+Ca+P+S. Ratio between forages and concentrates is 60: 40 with TON 53.94% and CP 13.87%. The result showed that there were no effect of mineral Ca, P, Mg and S supplementation on rumen fluid characteristics except for VFA even though it was still on the optimum condition. Inconclusion, supplementation of Ca, P and S was the best among the treatments.


Keywords
goat, minerals, rumen fluid characteristics
DOI:
http://dx.doi.org/10.24014/jupet.v4i2.271
Refbacks
There are currently no refbacks.
Jurnal Peternakan 
has been accredited by Sinta 3 : Number 158/E/KPT/2021
Starting from Vol. 18 No. 1 Year 2021 to Vol. 22 No. 2 Year 2025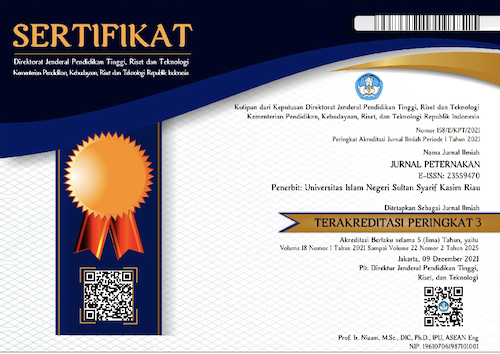 Jurnal Peternakan Indexed By:

Creation is distributed under the 
Creative Commons Attribution 4.0 International License
. 
View Mystats