INFESTASI FASCIOLA SP PADA SAPI BALI DENGAN SISTEM PEMELIHARAAN YANG BERBEDA DI DESA TANJUNG RAMBUTAN KECAMATAN KAMPAR
Abstract
The purpose of the research was to identify the infestation of Fasciola sp on Bali cows in the different management systems. The research was done on June up to July 2007 at Tanjung Rambutan village, Kampar and BPPV Regional 0, Buldt Tinggi.
Feces of 60 Bali cows from Tanjung Rambutan village were collected. The qualification of the cows are
(1) the age should be more than 1.5 years old, (2) female and (3) free from wonn drugs. The 60 cows used in the research consist of 50 cows which were cared extensively and 10 cows intensively. The samples of feces were collected from the rectum, and examined for Fasciola sp eggs using the sedimentation test (Uji End4p). The data was analyzed using Chi Square method.
The results of the research indicated that infestation of Fasciola sp on Bali cows were lower in the intensively farming than extensively. The laboratory test showed that 92% (46 samples) of Ball Cows which were cared extensively, infested by Fasciola sp eggs and 8% (4 samples) of them were negative. From 10 samples of Bali cows which were, 1 sample (10%) positively infected by theJasciola sp and 9 samples (90%) were negative.
DOI:
http://dx.doi.org/10.24014/jupet.v4i2.265
Refbacks
There are currently no refbacks.
Jurnal Peternakan 
has been accredited by Sinta 3 : Number 158/E/KPT/2021
Starting from Vol. 18 No. 1 Year 2021 to Vol. 22 No. 2 Year 2025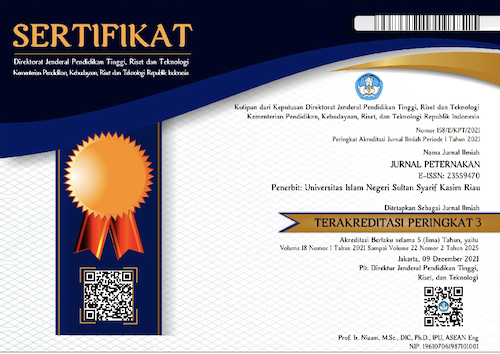 Jurnal Peternakan Indexed By:

Creation is distributed under the 
Creative Commons Attribution 4.0 International License
. 
View Mystats