KARAKTERISTIK SIFATFISIK SEMEN DOMBA ST. CROIX
Abstract
The objectives of this research are to determine the characteristichs of St. Croix ram semen instead to semen cryopreservation.
Results of the research revealed that the mean sperm volume is 1.54 ± OA1 mI, colour is crem, pH is 6.8 ± 0.01, concentration is 3.785 ± 343.79 million/ml, mean sperm motility is 81.67 ± 2.58%, live sperm cpunt is 89 ± 2.37%, apical rich (fAU) is 94 ±1.27%, intact plasma membrane (MPU) is 86.33 ±2.34% and abnormal sperm is 8.33 ±1.37%.
Itis concluded that St. Croix ram semen have good quality and may be used for semen cryopreservation.
Keywords
St. Croix ram senlen, charateristich, cryopreservation.
DOI:
http://dx.doi.org/10.24014/jupet.v4i1.254
Refbacks
There are currently no refbacks.
Jurnal Peternakan 
has been accredited by Sinta 3 : Number 158/E/KPT/2021
Starting from Vol. 18 No. 1 Year 2021 to Vol. 22 No. 2 Year 2025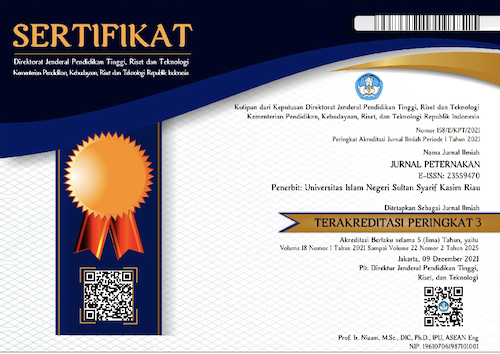 Jurnal Peternakan Indexed By:

Creation is distributed under the 
Creative Commons Attribution 4.0 International License
. 
View Mystats