PENGGUNAAN PROGESTERON DAN ESTRADIOL BENZOAT PADA PROGRAM INSEMINASI BUAT AN DOMBA ST. CROIX The Effects of Progesterone and EstradiPl~enzoate of AI in the St. Croix ewes.
Abstract
The objectives of this research are to determinetli~effects of progesterone intravaginal implant and its . combination with estradiol benzoate on response of estrus ~d~;conception rate.
Results of the experiment. indicated that both treatnien~of progesterone alone and progesterone plus estradiol
benzoate induced estrus in all treated ewes. The onset of ~~was earlier in the group treated with 0.1 fig estradiol
benzoate than in the group treated with progesterone alone'(S2.31 and 42.31 hours respectively, after progesterone
implant removal). The duration of estrus was longer in ~gr~ptreated with 0.1 mg estradiol benzoate (70.92 hours)
than in the group treated with progesterone alone (37.42 hoUrs). The conception rate after insemination in the group
treated with progesterone alone was not different with the gr#p treated with progesterone and estradiol benzoate:
It is concluded that administration of estradiol benzoatE after progesterone implant removal improves estrous
response, but can not improve the conception rate compared With progesterone treatment alone.
Keywords
progesterone intravaginal implant, estradiol benzoate, artificial insemination
DOI:
http://dx.doi.org/10.24014/jupet.v3i2.250
Refbacks
There are currently no refbacks.
Jurnal Peternakan 
has been accredited by Sinta 3 : Number 158/E/KPT/2021
Starting from Vol. 18 No. 1 Year 2021 to Vol. 22 No. 2 Year 2025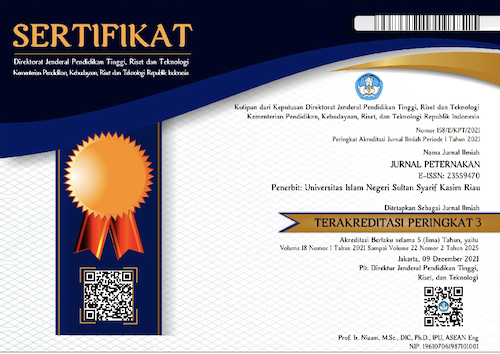 Jurnal Peternakan Indexed By:

Creation is distributed under the 
Creative Commons Attribution 4.0 International License
. 
View Mystats