PENGARUH DOSIS UREA DALAM AMONIASI TANDAN KOSONG SAWIT TERHADAP KECERNAAN ZAT-ZAT MAKANAN SECARA IN-VITRO The Effect Ammoniated Palm Empty Bunch on The In-Vitro Digestibility and Fermentability
Abstract
The objective of this research was to determine $e effect ammoniated palm empty bunch on the in vitro d,gestibility and fennentability. Palm empty bunch is ammoniated by O. 2, 4 and 6% urea kg/ DM with length of 3 weeks fennentation at anaerobic condition. Digestibility was detennined after 48 h incubation with rumen fluid ofTilley and Terry technique. Data were analyzed as a Block randomized Design. Digestibility of DM" NDF and ADF, were difference among treabnents. In vitro DM, OM, NDF, ADF and sellulosa digestibility after 48 h was higher for level 4 and 6% urea than for 0, and 2%.}. The average of pH was non difference among treabnent Concentration of NH3 and VFA were increase for all treabnent. It was concluded that palm empty bunch ammoniated by 4% urea/DM has better digestibility.
Keywords
Palm empty bunch, Ilmmoniation, in vitro digestion.
DOI:
http://dx.doi.org/10.24014/jupet.v3i2.244
Refbacks
There are currently no refbacks.
Jurnal Peternakan 
has been accredited by Sinta 3 : Number 158/E/KPT/2021
Starting from Vol. 18 No. 1 Year 2021 to Vol. 22 No. 2 Year 2025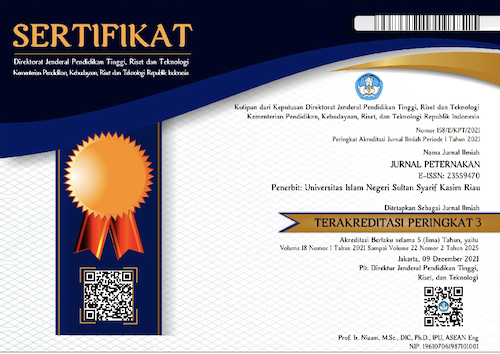 Jurnal Peternakan Indexed By:

Creation is distributed under the 
Creative Commons Attribution 4.0 International License
. 
View Mystats