KUALITAS FISIK GELATIN HASIL EKSTRAKSI KULIT SAPI DENGAN LAMA PERENDAMAN DAN KONSENTRASI ASAM KLORIDA (HCl) YANG BERBED
Abstract
Gelatin is a compound hydrolysis of collagen fibers. The purpose of this research was to determine the influence of concentration of hydrochloric acid (HCl). and soaking time on the bovine hide making toward physical quality gelatin. The materials were bovine hide, hydrochloric acid and  distilled water. Data were statistically analyzed by A Completely Random Design with factorial pattern consist two factors; hydrochloric acid concentration (3% and 5%) and soaking time (4, 8, 12 and 16 hours) with three times replications. Parameters measured were pH, gel strength, yield and viscosity. The result showed that pH,  bloom strogh, yield and viscosity, centipoise (cP) of gelatin was 2.70-4.12, 53,33-185,00 g, 18.04-37.93% and 1.49-1,79, respectively. An interaction between hydrochloric acid and soaking time significantly (P˂0.01) influence in following categories: T pH, gel strength, viscosity and yield. It is conclude that the best combination treatments is  HCl 3% and 12 hours of soaking soaking.
Keywords
gelatin of bovine hide, hydrochloric acid
DOI:
http://dx.doi.org/10.24014/jupet.v13i1.2386
Refbacks
There are currently no refbacks.
Jurnal Peternakan 
has been accredited by Sinta 3 : Number 158/E/KPT/2021
Starting from Vol. 18 No. 1 Year 2021 to Vol. 22 No. 2 Year 2025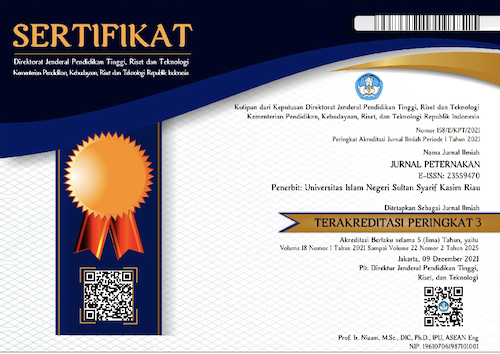 Jurnal Peternakan Indexed By:

Creation is distributed under the 
Creative Commons Attribution 4.0 International License
. 
View Mystats