FERTILITAS DAN PERSENTASE EMBRIO KERBAU SAMPAI MORULA YANG DIKULTUR DENGAN PENAMBAHAN GLUTATHIONE SECARA IN VITRO
Abstract
The concentration of high fat content in buffalo embryo culture media is very influential on the increase in oxidative stress that occurs in conditions of in vitro. The occurrence of increased oxidative stress in the process of embryo culture in vitro, would result in lower percentage of embryo culture until the morula stage (32) cells. The purpose of this study was to determine the percentage of fertilized oocytes supplemented with glutathione. To know the development of the embryo until the morula stage (32) cells were cultured in the culture medium supplemented with glutathione (GSH). To determine the viability of morula stage embryo or 32 cells. The materials used in this study is ovarian buffaloes and methods used in this study is an experimental method in the laboratory. Based on these results it can be concluded that the addition of glutathione 1.5 mM in media oocyte maturation buffalo in vitro provide a significant influence on the percentage of maturation ie          (P <0:01) or 62.5% and in line with the high percentage of oocytes matured in treatment increase glutathione 1.5 mM, then the percentage of oocytes were successfully fertilized also higher, namely 88.98%. Furthermore, the addition of 3 mM glutathione in embryo culture media in vitro buffalo give a significant influence on the percentage of embryo development to the morula stage or cell 32, namely (P <0.01) in, or 40.73%. 
Keywords
culture, embryo, buffalo, glutathione, in vitro
DOI:
http://dx.doi.org/10.24014/jupet.v13i1.2384
Refbacks
There are currently no refbacks.
Jurnal Peternakan 
has been accredited by Sinta 3 : Number 158/E/KPT/2021
Starting from Vol. 18 No. 1 Year 2021 to Vol. 22 No. 2 Year 2025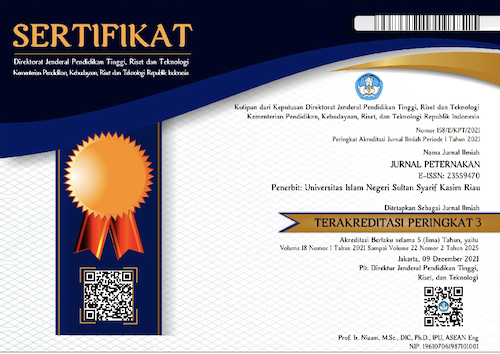 Jurnal Peternakan Indexed By:

Creation is distributed under the 
Creative Commons Attribution 4.0 International License
. 
View Mystats