IDENTIFIKASI KERAGAMAN GEN BMPR-1B (Bone Morphogenetic Protein Receptor IB) PADA AYAM ARAB,AYAM KAMPUNG DAN AYAM RAS PETELUR MENGGUNAKAN PCR-RFLP
Abstract
BMPR-1B gene closely related to the rate of ovulation and follicular maturation. In poultry, BMPR-1B gene is located on chromosome 14th consists of 13 exons. BMPR-1B was expressed in the granulosa cells of the ovary and teca interna poultry. BMPR-1B was able to accelerate the maturation of the follicles so that the ova produced increasingly. BMPR-1B gene diversity was associated with poultry production.  DNA isolation was performed using GeneJET Genomic DNA Purification Kit from blood samples derived from 28 native chickens, 20 layer chickens and 10 arab layer chickens. A total of 58 DNA were  used as a template in the process of BMPR-IB gene amplification using Polymerase Chain Reaction method. Primers used in this study according to Zhang et al. (2008), Forward primer 5 'ATG GCT GGG AAG TCT GGA TG 3'dan Reverse primer 5' TGC CTT CTG TGT TAA CCG C 3 'with a length of 581 bp. This primary amplify BMPR-1B gene segment from exon 6 to exon 7 including the entire intron 6 with an annealing temperature of 58 0 C. BMPR-IB gene diversity was detected using restriction enzymes HindIII were incubated for 2 hours. The results of the study was showed that Hind III restriction enzymes do not cut the BMPR-1B gene segments in the population of native chickens, arab layer chickens and layer chickens, they were monomorphic.
Keywords
BMPR-1B gene, PCR-RFLP, native chicken, arab layer chicken,layer chicken
DOI:
http://dx.doi.org/10.24014/jupet.v13i1.2383
Refbacks
There are currently no refbacks.
Jurnal Peternakan 
has been accredited by Sinta 3 : Number 158/E/KPT/2021
Starting from Vol. 18 No. 1 Year 2021 to Vol. 22 No. 2 Year 2025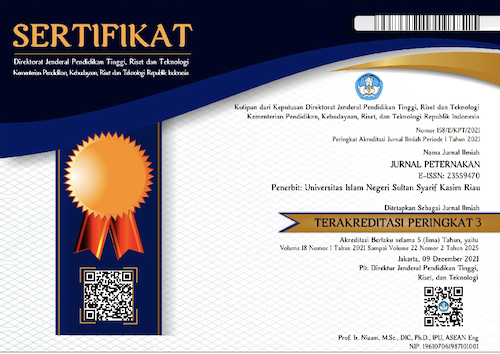 Jurnal Peternakan Indexed By:

Creation is distributed under the 
Creative Commons Attribution 4.0 International License
. 
View Mystats