KARAKTERISTIK MIKROBIOLOGIS PROBIOTIK TERENKAPSULASI
Abstract
Milk fermentation is one of a technique in milk preservation. The mechanism is to fermentate lactose becoming lactic acid by lactic acid bacteria. The production and quality fermentation of milk is affected by starter culture that usually propagated in milk. This condition can make high contamination while handling. To improve quality of the starter culture granule is by adding encapsulated probiotic Lactobacillus acidophilus and Bifidobacterium longum bacteria as probiotic. The objective of this research is to study the characteristic microbiology of encapsulated probiotic (base on viability). The result showed that the population of encapsulated probiotic can be maintain in 107 CFU/g. It can be concluded that L. acidophilus and B. longum can be categorize as a probiotic bacteria.
Keywords
encapsulation, fermented milk, probiotic
DOI:
http://dx.doi.org/10.24014/jupet.v10i2.2318
Refbacks
There are currently no refbacks.
Jurnal Peternakan 
has been accredited by Sinta 3 : Number 158/E/KPT/2021
Starting from Vol. 18 No. 1 Year 2021 to Vol. 22 No. 2 Year 2025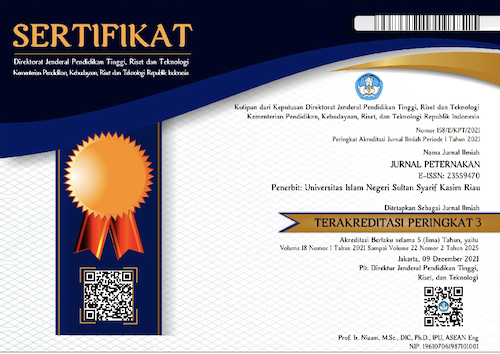 Jurnal Peternakan Indexed By:

Creation is distributed under the 
Creative Commons Attribution 4.0 International License
. 
View Mystats