PENGARUH PEMAKAIAN TEPUNGUMBI TALAS (Xanthosoma sagittifolium) DAN PENAMBAHAN METIONIN DALAM RAN SUM PUYUH PERIODE PERTUMBUHAN
Abstract
The objective of this study was to know the influence of applying of black radish (Xanthosomtt SlIgittifolium) tuber meal and methionine and interaction of them in the growth period quail ration. The experiment was designed as completely randomized design in factoriaJ mode with 2 factors (levels of black radish tuber meal and methionine) and 4 replications. The result showed that the black radish tuber meal might be applied up to 24" in grQwth period quail ration and the addition of 0.2% methionine to the ration resulted the better growth.
Keywords
Melionin, quail, black radish
DOI:
http://dx.doi.org/10.24014/jupet.v3i1.218
Refbacks
There are currently no refbacks.
Jurnal Peternakan 
has been accredited by Sinta 3 : Number 158/E/KPT/2021
Starting from Vol. 18 No. 1 Year 2021 to Vol. 22 No. 2 Year 2025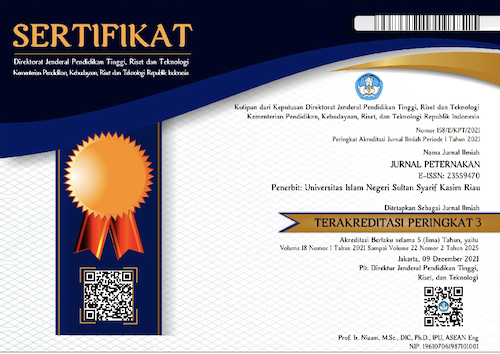 Jurnal Peternakan Indexed By:

Creation is distributed under the 
Creative Commons Attribution 4.0 International License
. 
View Mystats