ANALISIS PENDAPATAN PETERNAK AYAM BROILER POLA KEMI1RAAN DI KOTA PEKANBARU
Abstract
This research was done at Pr. Unggas Jaya in Pekanbaru City, the research goals wanted to know companies patnership implementation toward broiler's farm, also to know the income differences at differMt company scales. . This research was done during three month.. from August to November 2003. This research was case study and using sensus as sampling technique toward 16 broiler's farm. The populations were devJded into three calegories, scale I
< 5.000 chicken, scale II (5.000-10.000) chicken and scale III >10.000 chicken. The results show the patnership models that could be realized are letter of agreement, raising nest type, land ownership letter of broiler's farm, sapronak of the companies, companies technical assiStance. Oevident calcuJating system and devident IiIldng after harvest Mean while minimal production 5.000 chicken, the continuity of sapronak delivery, sapronak prices, harvest schedule and the price of selling were not realized. Mean net income for scale I waS Rp 6.715.334,19, scale II Rp 14.662.761,71 and scale III Rp 12.728.775,56. Return Cost of Ratio scale I 1.14, scale II 1.21 , and scale III 1.117


Keywords
broilers farm, company, company scale, income, patnership,
DOI:
http://dx.doi.org/10.24014/jupet.v3i1.217
Refbacks
There are currently no refbacks.
Jurnal Peternakan 
has been accredited by Sinta 3 : Number 158/E/KPT/2021
Starting from Vol. 18 No. 1 Year 2021 to Vol. 22 No. 2 Year 2025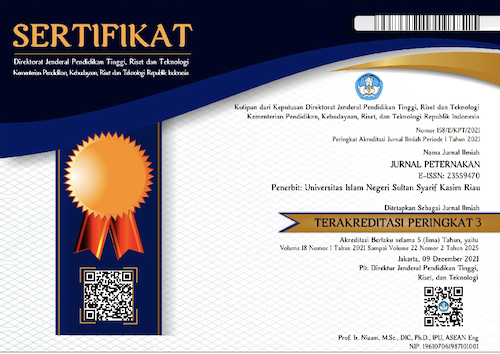 Jurnal Peternakan Indexed By:

Creation is distributed under the 
Creative Commons Attribution 4.0 International License
. 
View Mystats