PERFORMANS REPRODUKSI SAPI PESISIR DAN SAPI BALI . DI DAERAH INSEMINASI BUATAN KECAMATAN BAYANG KABUPATEN PESISIR SELATAN
Abstract
Th~ research rums to kn~~ the comparison of Pesisir and Bali c~ws reproductive perfvrmances in artificial
~nsem~natlon ar~a! Bayang~ Peslslr Selatan. Data was collected using sample accidental methode on 130 and 41
msemmated Peslslr and Ball cows respectively. The data was analyzed using t and z tests. .
. The. result ~ho.wed that the first se,rvice after calving rate and the calving interval ofPesisir and Bali cows were
dl~e~ent highly. slgruficant but the calvmg rate are different significantly. The first service after calving rate of
Peslslr .and Balt cows are 268.7~ and 211.86 days, and the calving interval of the are 545.12 and 500.63 days
. respectively. Furthermore the calvmg rate ofthem are 73.07% and 50% and the pregnant periode are 277.39 and 278 days respectively.
Keywords
reproductive performance, first service after calving, calving rate
DOI:
http://dx.doi.org/10.24014/jupet.v2i1.213
Refbacks
There are currently no refbacks.
Jurnal Peternakan 
has been accredited by Sinta 3 : Number 158/E/KPT/2021
Starting from Vol. 18 No. 1 Year 2021 to Vol. 22 No. 2 Year 2025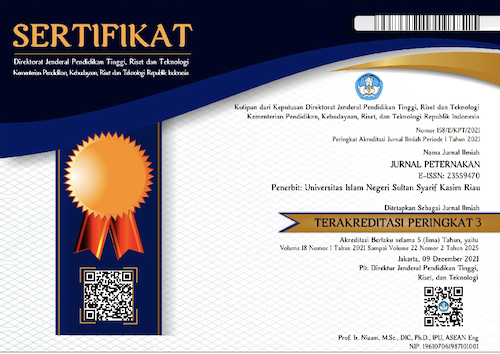 Jurnal Peternakan Indexed By:

Creation is distributed under the 
Creative Commons Attribution 4.0 International License
. 
View Mystats