ANALISIS FAKTOR·FAKTOR YANG lWEMPENGARUHI PENDAPATAN USAHA KELUARGA TRANSMIGRAN PETERNAK SAPI DI KECAMATAN PAIWENANG KABUPATEN MERANGIN
Abstract
This research a~s to know the income level of integrated farming system on transmigrant family. The research was ~arned ~ut ~t 8 -22 December 1999 in Bukit Tungkul, Tamb.mg Emas and !!,antak Seribu, Pamen~g, Mer~gm,Jambl, ~smg survey methode. The sample was collected using Simple Random Sampling and Purpos~ve Samplmg. ~he vanable of the research are animal scale, holticulture area, farm periode, stay periode in
. transmlgrant area, sharmg percentage, family labour and holticulture type. The result indicated that the income of
integrated farming system are about Rp 4.909.573.34/ year.
Keywords
Transmigrant, integrate,farming system, animal scale
DOI:
http://dx.doi.org/10.24014/jupet.v2i1.211
Refbacks
There are currently no refbacks.
Jurnal Peternakan 
has been accredited by Sinta 3 : Number 158/E/KPT/2021
Starting from Vol. 18 No. 1 Year 2021 to Vol. 22 No. 2 Year 2025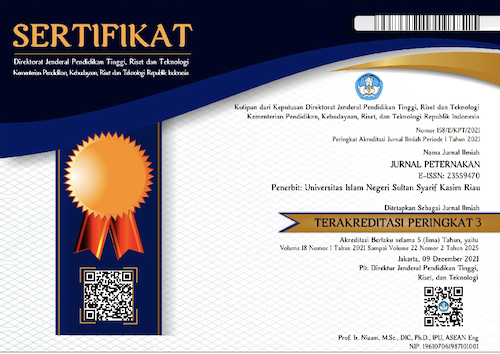 Jurnal Peternakan Indexed By:

Creation is distributed under the 
Creative Commons Attribution 4.0 International License
. 
View Mystats