RESPON PENAMBAHAN MINERAL KALSIUM, PHOSPOR, MAGNESIUM DAN SULFUR TERHADAP KARAKTERISTIK CAIRAN RUMEN PADA TERNAK KAMBING LOKAL
Abstract
Microbial growth and various fertnentation processe5in th~ rumen require an adequate supply of minerals. An experiment was conducted to determine rumen fluid characteristics from 20 goats of local breed. ~ f They were randomly allocated into 4 treatments in a Randomized Block Design with 5 replication. Treatments were: A =forages (natural grasses, gIiricidia and leucaena) and concentrate (rice brand, com graL,,\ and coconut meal) ; B =ration A+Ca+P ; C =ration A+Ca+P+Mg and D = ration A+Ca+P+S. Ration between forages and concentrates is 60 : 40 with TDN 53.94% and CP 13.87%. The result showed that there were no effect of mineral
!
1
Ca, P, Mg and S supplementation on the characteristics of the rumen fluid except for VFA even though it was still on the optimum condition for microbial growth. In conclusion, supplementation of Ca, P, and S was the best I among the treatments.
Keywords
Characteristics of the rumen fluid, goat, milnerals.
DOI:
http://dx.doi.org/10.24014/jupet.v1i1.209
Refbacks
There are currently no refbacks.
Jurnal Peternakan 
has been accredited by Sinta 3 : Number 158/E/KPT/2021
Starting from Vol. 18 No. 1 Year 2021 to Vol. 22 No. 2 Year 2025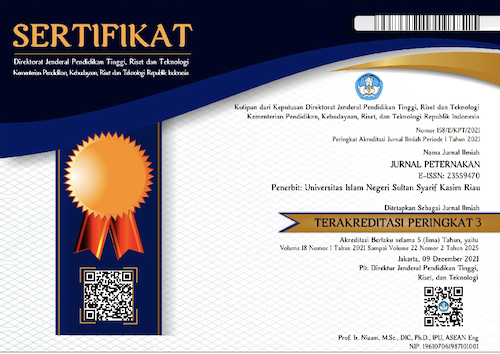 Jurnal Peternakan Indexed By:

Creation is distributed under the 
Creative Commons Attribution 4.0 International License
. 
View Mystats