AKTIVIT AS ENZIM CAlRAN RUMEN PADA BEBERAP A BAHAN . PAKAN DAN PENGARUHNYA TERHADAP PERFORMANS BROILER YANG DIBERI RANSUM BERBAHAN BAKU SINGKONG
Abstract
Three experiments were conducted to evalu."'Ite the enzyme activity from rumen liquor in some feedstuffs and its effect on performance of broiler chickens fed cassava based-diet. Those were: enzyme activity test and degradation level; total solubility; and feeding trial. Ninety day old chicks Ross broiler were fed three experimental' diets i.e.: ration containing gaplek as control (R1); ration containing rumen liquor treated gaplek (R2) and R1 + 1 % Starbidf9 (R3) for 4 weeks on feeding trial.
Results showed that enzyme activity of rumen liquor was 243 IU/g. Enzyme from rumen liquor was capable of degrading onggok (89.90%); diet containi..'''lg gaplek (87.05%); gaplek (85.89%); coconut meal (83.97%); rice straw (7L.79%J; and rice bran (33.75%). Total solubility of these feedstuffs also increased after the enzyme treatment. The total solubility of the feedstuffs were: rice bran (33.75%); onggok (29.24%); diet containing gaplek (23.80%); gaplek (14.02%); coconut oil meal (1289%); and rice straw (11.57%) respectively. It was concluded that the enzyme from rumen Ii~uor can improve feed quality of gaplek, but the improvement can not enhance feed conversion ratio and performance index oJ broiler chickens fed gaplek based-diet.
Keywords
enzyme activity, degradation level, total solubulity, gaplek, non-starch polysaccharides, rumen liquor, Starbio
DOI:
http://dx.doi.org/10.24014/jupet.v1i1.207
Refbacks
There are currently no refbacks.
Jurnal Peternakan 
has been accredited by Sinta 3 : Number 158/E/KPT/2021
Starting from Vol. 18 No. 1 Year 2021 to Vol. 22 No. 2 Year 2025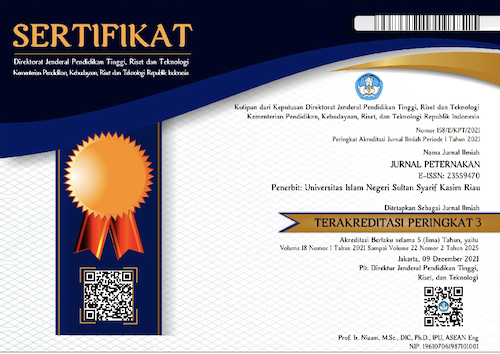 Jurnal Peternakan Indexed By:

Creation is distributed under the 
Creative Commons Attribution 4.0 International License
. 
View Mystats