PREFERENSI KONSUMEN TERHADAP MINUMAN SUSU FERMENTASI DI TIGA MALL KOTA PEKANBARU
Abstract
This research was conducted to know consumen preferences to comercial fermented milk in order to: frequency of
consumption, form of consumption, type of fermented milk, place to take the product and reason consumption. Total sample
was used 100 respondences in three Malls Pekanbaru City. Result showed that highest frequency of comsumption was
weekly, form of comsumption was ready to drink, type of product yakult, place to take the product was supermaket and the
reason to consumption was benefit to their healthy.
Keywords
consumen preference and fermented milk
DOI:
http://dx.doi.org/10.24014/jupet.v8i1.205
Refbacks
There are currently no refbacks.
Jurnal Peternakan 
has been accredited by Sinta 3 : Number 158/E/KPT/2021
Starting from Vol. 18 No. 1 Year 2021 to Vol. 22 No. 2 Year 2025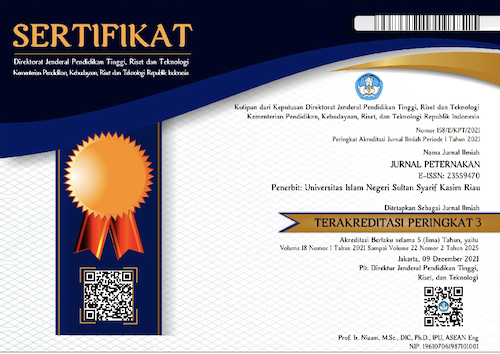 Jurnal Peternakan Indexed By:

Creation is distributed under the 
Creative Commons Attribution 4.0 International License
. 
View Mystats