HUBUNGAN ANTARA PRAKTEK MANAJEMEN PEMELIHARAAN DENGAN KEJADIAN AVIAN INFLUENZA PADA PETERNAKAN AYAM PEDAGING DI SEKTOR 3 MILIK MITRA PT. DUTA TECHNOVET DI DIY SELAMA SATU SIKLUS PEMELIHARAAN
Abstract
The control strategies of avian influenza (AI) inpedaging operations primarily depend on tight biosecurity
meanwhile management practices on farm. This experiment was designed to study the relationship between the level of
biosecurity and the incidence of AI in one rearing period ofpedaging farms at sector-3 with an opened house system. This
study was done in contractpedaging company farms of PT. Duta Technovet which has a minimum of 1.000 chickens. This
study was conducted in 18 houses (n) ofpedaging farms which were distributed in 3 different villages of 3 different
subdistricts and districts in Yogyakarta Special Region. Sixpedaging houses were selected from Sendang Sari Village of
Pajangan subdistrict of the district of Bantul; 6 pedaging houses were from Getas Village of Playen subdistrict of the district of Gunungkidul; and 6pedaging houses were from Pakem village of Pakem subdistrict of the district of Sleman. The judgment based on the score of the prepared questionnaire for thepedaging farmers. Isolation of AI virus employing cloacal swab was done in the Virology Laboratory of Balai Besar Veteriner (BBVet) Wates. Data were collected and analyzed with the Fisher's exact test (FET), using the software SPSS of Windows version 15.0. The results of this study indicate that the presence of stable air ventilation sufficient to give significant results on the incidence of AI disease inpedagings, with P <0.01.
Keywords
brolier chicken, avian influenza, maintenance management practices
DOI:
http://dx.doi.org/10.24014/jupet.v8i1.202
Refbacks
There are currently no refbacks.
Jurnal Peternakan 
has been accredited by Sinta 3 : Number 158/E/KPT/2021
Starting from Vol. 18 No. 1 Year 2021 to Vol. 22 No. 2 Year 2025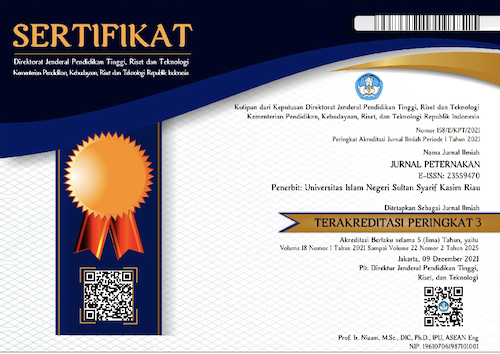 Jurnal Peternakan Indexed By:

Creation is distributed under the 
Creative Commons Attribution 4.0 International License
. 
View Mystats