ANALISIS FINANSIAL USAHA PETERNAKAN AYAM BROILER DI PETERNAKAN KARISA KELURAHAN SIMPANG BARU KECAMATAN TAMPAN KOTA PEKANBARU
Abstract
The objective of the study was to analyze the financial feasibility of the Karisa Broiler Farm based on Net Present
Value (NPV), Benefit Cost Ratio (BCR) and Internal Rate of Return (IRR). The research was conducted on May to June
2010 at Karisa Broiler Farm located in Simpang Baru, Tampan, Pekanbaru, Riau. The data consisted of primary data and
secondary data. The primary data consisted of the respondent identity, the general condition of broiler farm, the reveniew, the
need of employee, the sallary of employee, the structure of reveniew, the production factors, the fixed cost and the variable
cost. The secondary data was the data from the village office and the sector office. The method was case study. The location of
study was choosed directly where the Karisa Broiler Farm was a potentially broiler farm in Pekanbaru. The data was collected
as indept interview using questioner. The respondents were the owner and the employee of Karisa. The data was analyzed
using quantitative descriptive analysis and then showed using financial analysis model throught out project analysis
approach. The result showed that if the Karisa farm use the own capital, where the interest rates was 6,25%, then the NPV
was Rp 274.192.038,8,- and the BCR was 1,12 and if the Karisa farm use the loan capital, where the interest rate was
14,5%, then the NPV was Rp 100.583.235,4 and the BCR was 1,06. The IRR of Karisa farm was 22,25%. Based on the
eligibility criteria, where the NPV was possitive, the BCR more than one, and the IRR higher than the prevailing interest
rate, then the Karisa farm financially feasible to be runed and to be continued.
Keywords
broiler, financial feasibility
DOI:
http://dx.doi.org/10.24014/jupet.v8i2.201
Refbacks
There are currently no refbacks.
Jurnal Peternakan 
has been accredited by Sinta 3 : Number 158/E/KPT/2021
Starting from Vol. 18 No. 1 Year 2021 to Vol. 22 No. 2 Year 2025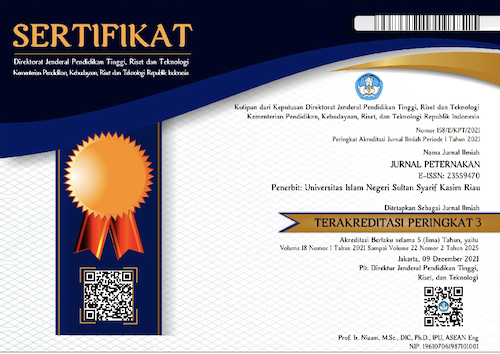 Jurnal Peternakan Indexed By:

Creation is distributed under the 
Creative Commons Attribution 4.0 International License
. 
View Mystats