DISTRIBUSI UNGGAS DARI PASAR PALAPA DAN PASAR SELASA KOTA PEKANBARU SEBAGAI JALUR POTENSIAL PENYEBARAN VIRUS AVIAN INFLUENZA
Abstract
The research was conducted in August 2010 to October 2010 in Pekanbaru. Location of the research was focused at
traditional markets included Palapa and Selasa market. This study aimed to determine the distribution patterns of birds that
are traded in traditional markets in order to describe the potential ways of the spread of Avian Influenza virus. This study
used survey methods, involved the poultry traders and buyers as the respondents of both markets. The poultry buyers were
taken by randomly and purposively. Interview to buyers poultry were conducted 1 time a week for 4 weeks. The variables
included 1) type of poultry sold, 2) area of origin of poultry for sale; 3) the number of poultry sold; 4) domicile poultry buyer,
and 5) the need for buying poultry. Based on the results of the study and description of the discussion could be drawn some
conclusions, as follow 1) the pattern of distribution of live poultry were traded at Palapa and Selasa market covered a range of Pekanbaru City area, outside the city of Pekanbaru and outside the Riau Province; 2) distribution of live poultry caused by the mobilization of traders and buyers of poultry has the potential for transmission, distribution and outbreaks of avian influenza, both among the animals (poultry) or to humans.
Keywords
Avian Influenza, distribution, market, poultry, Pekanbaru
DOI:
http://dx.doi.org/10.24014/jupet.v8i2.199
Refbacks
There are currently no refbacks.
Jurnal Peternakan 
has been accredited by Sinta 3 : Number 158/E/KPT/2021
Starting from Vol. 18 No. 1 Year 2021 to Vol. 22 No. 2 Year 2025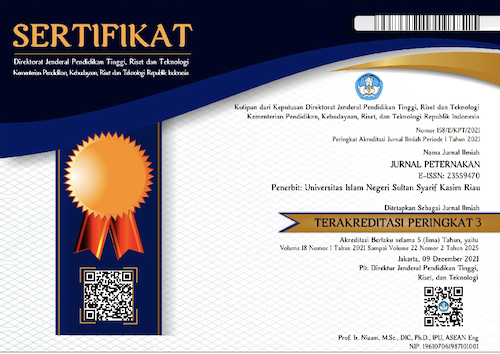 Jurnal Peternakan Indexed By:

Creation is distributed under the 
Creative Commons Attribution 4.0 International License
. 
View Mystats