Instructional Development Journal (IDJ) (E-ISSN: 2686-1267, P-ISSN: 2657-1536) pertama kali pada tahun 2018 diterbitkan oleh Center for Instructional Development (CiD) Universitas Islam Negeri Sultan Syarif Kasim Riau. Instructional Development Journal (IDJ) terbit 2 (dua) kali setahun pada bulan Juni dan Desember, berisi tulisan/artikel hasil pemikiran dan hasil penelitian yang ditulis oleh para pakar, ilmuwan, praktisi, dan pengkaji dalam disiplin ilmu kependidikan dan pembelajaran.
BAGAIMANA MENGIRIMKAN ARTIKEL?
Artikel harus asli, tidak diterbitkan, dan tidak dipertimbangkan untuk publikasi di tempat lain pada saat penyerahan ke IDJ. Setiap naskah yang dikirimkan ke IDJ ditulis dalam bahasa Indonesia dan mengikuti Pedoman Penulis. Silakan baca panduan penulis. Sebelum mengirimkan, harap pastikan naskah Anda disiapkan menggunakan template IDJ. Jika naskah tidak memenuhi panduan penulis atau ditulis dalam format yang berbeda, artikel akan DIHAPUS. Hanya manuskrip yang diserahkan yang memenuhi format IDJ yang akan diproses lebih lanjut. UNDUH TEMPLATE IDJ DI SINI.
PENGAJUAN ONLINE
1. Sudah memiliki Nama Pengguna atau Kata Sandi untuk Instructional Development Journal? Harap LOGIN
2. Butuh Nama Pengguna / Kata Sandi? BUKA PENDAFTARAN
Registrasi dan login diperlukan untuk mengirimkan artikel secara online dan untuk memeriksa status pengiriman saat ini. Jika Anda memiliki pertanyaan spesifik, jangan ragu untuk menghubungi kami di: cidftkuinsuska@gmail.com atau cc to musa.thahir@uin-suska.ac.id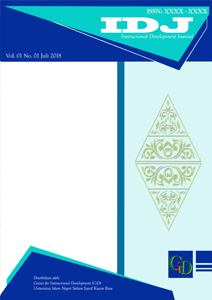 Announcements
No announcements have been published.
Vol 5, No 3 (2022): IDJ
Table of Contents
Articles