POTENSIA: Jurnal Kependidikan Islam (ISSN 2442-5605), adalah jurnal ilmiah Fakultas Tarbiyah dan Keguruan Universitas Islam Negeri Sultan Syarif Kasim Riau, yang pertama kali terbit pada tahun 2002, pada awalnya bernama Jurnal Kependidikan Islam, yang terbit dua kali dalam setahun, yaitu bulan Juni dan Desember, yang berkonsentrasi dalam pengembangan ilmu pendidikan Islam. Redaksi membuka secara luas kepada masyarakat umum, terutama dari kalangan akademisi, peneliti, dan pendidik, untuk menyumbangkan dedikasi intelektualnya dalam bentuk artikel yang akan diterbitkan dalam jurnal ini. dengan ketentuan artikel tersebut adalah asli dan belum pernah dipublikasikan di media manapun. Artikel boleh ditulis dalam bahasa Indonesia, Arab, atau Inggris. Penulis perlu melakukan register dengan jurnal terlebih dahulu sebelum mengajukan naskah, atau jika sudah terdaftar, cukup login dan memulai proses lima langkah.
POTENSIA: Jurnal Kependidikan Islam (ISSN 2442-5605), is a scientific journal of the Faculty of Tarbiyah and Teacher Training State Islamic University Sultan Syarif Kasim Riau Indonesia, which was first published in 2002. It was firstly named Jurnal Kependidikan Islam published be-annual, June and December. It concern in the development of Islamic education. Editors appreciately welcome all public especially academics, researchers, and educators to donate their intellectual dedication in the form of articles to be published in this journal which is original and has not been published in any media. The articles may be written in Indonesian, Arabic, or English.  Authors need to register with the journal prior to submitting or, if already registered, can simply log in and begin the five-step process.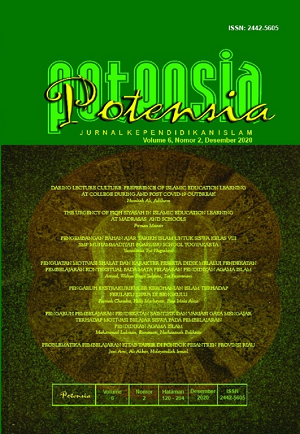 Announcements
Call For Paper

The Editorial Team of the journal welcomes contributions of papers on any topics related to Islamic Education whether in Indonesia, English or Arabic throughout the year.

Posted: 2017-01-04
More...
Vol 3, No 1 (2017): Januari - Juni
Table of Contents
Articles