A B C D E F G H I J K L M N O P Q R S T U V W X Y Z All
T
Tabbu, C.R.
, Departemen Patologi Veteriner Fakultas Kedokteran Hewan Universitas Gadjah Mada Yogyakarta (Indonesia)
Tamzil, M. H.
, Fakultas Peternakan Universitas Mataram (Indonesia)
Tanuwiria, U. H.
(Indonesia)
Tarmidi, A. R.
(Indonesia)
Tjahjono, B.
, Departemen Ilmu Tanah dan Sumberdaya Lahan, Fakultas Pertanian IPB (Indonesia)
Trinugraha, A. C.
(Indonesia)
1 - 6 of 6 Items
Jurnal Peternakan 
has been accredited by Sinta 3 : Number 158/E/KPT/2021
Starting from Vol. 18 No. 1 Year 2021 to Vol. 22 No. 2 Year 2025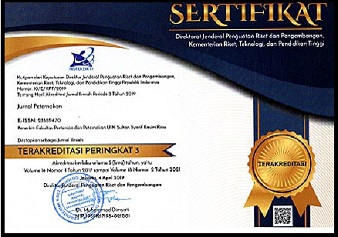 Jurnal Peternakan Indexed By:
Creation is distributed under the 
Creative Commons Attribution 4.0 International License
.
View Mystats