Kandungan Fraksi Serat Ransum Pellet Unggas Dengan Penggunaan Tepung Indigoferazollingeriana
Abstract
This study aims to evaluation the effect of Indigofera zollingeriana flour utilization inpoultry pellet ration on the content of the fiber fraction ,namely : Neutral Detergent Fiber (NDF), Acid Detergent Fiber (ADF), Acid Detergent Lignin (ADL), hemicelluloses and cellulose. The experimental design used Completely Randomized Design(CRD),which consists of 4 treatments and 5 replicates. The treatments were the level of Indigofera zollingeriana flour utilization that were T0 = 0% Indigofera zollingeriana  (control),T1  =  5%  Indigofera  zollingeriana,  T2  =10%  Indigofera  zollingeriana,  T3  =  15%  Indigofera zollingeriana.  The  results showed that the Indigofera zollingeriana utilization had no significant effect (P>0.05) on the content of NDF, hemicellulose, cellulose but had  significantly effect (P<0.05) to the content of ADF and highly significant effect (P<0.01) on the content of ADL. It was concluded that the use of 15% Indigofera zollingerian alowered the content ADF and ADL, unable to reduce the content fNDF and unable to increase the content of hemicellulose and cellulose.The use of 15% Indigofera zollingeriana is t h e b e s t  30.39% NDF; 9.42% ADF; 2.25% ADL; 20.98% hemicellulose and 4.53% cellulose.
Keywords
Indigofera zollingeriana flour; poultry rations; fiber fraction; pellet
References
Abdullah L. 2010. Pengembangan pellet Indigofera sebagai sumber pakan hijauan berkualitas. Laporan Hibah Insentif. Kementrian Riset dan Teknologi.
Akbarillah. T, Kususiyah, D. Kaharuddin, dan Hidayat. 2010. Tepung Daun Indigofera sebagai Suplementasi Pakan terhadap Produksi dan Warna Yolk Puyuh (Coturnix coturnix japonica). Jurnal Sain Peternakan Indonesia 3.(1).
Astuti. T., Sari Y., dan Zulkarnaini. 2011.
Pengaruh fermentasi kulit pisang dengan
mikroorganisme lokal (MOL) pada lama pemeraman dan sumber MOL yang berbeda terhadap kandungan fraksi serat sebagai pakan ternak. Universitas Muara Bungo dan Politani. Padang.
Hassen, A., N.F.G. Rethman, W.A. Van Niekerk, T.J. Tjelele. 2007. Influence of season/year and specieson chemical composition andin- vitro digestibility offive Indigofera accessions. Journal Anim Feed Sci Technol.136:312-322.
Ichwan, W.M. 2003. Membuat Pakan Ayam Ras Pedaging. Cet I. PT. Agromedia Pustaka. Jakarta.
Izzah U. 2011. Kualitas Fisik Pelet Daun Legum Indigofera sp. dengan Menggunakan Ukuran Pellet Die yang Berbeda dan Lama Penyimpanan. Skripsi. Institut Pertanian Bogor. Bogor.
Maulidayanti. 2015. Sifat fisik dan fraksi serat silase pelepah kelapa sawit yang ditambah biomassa indigofera (Indigofera zollingeriana). Skripsi. Fakultas Pertanian dan Peternakan. UIN SUSKA RIAU. Pekanbaru. Riau.
Svihus, B, and Zimonja, O., 2011. Chemical alterations with nutritional consequences due to pelleting animal feeds : A review. Anim. Prod. Sci. 51, 590–596.
Steel R. G. D & J. H. Torrie. 1991. Prinsip dan Prosedur Statistika, Edisi ke-2, B Sumantri, penerjemah. Jakarta: Gramedia Pustaka Utama. Terjemahan dari: The Principle and Prosedure of Statistics.
Van Soest P. J and Goering, H. K. 1970. Forage Fiber Analyses (Apparatus, Reagents, Procedures and Some Application). Agric. Handbook 379. ARS. USDA Washington D.C.
Van Soest P. J. 1994. Nutritional Ecology of The Ruminant. 2nd Ed. Comstock Publishing Associates a Division of Cornell University Press, Ithaca and London.
Yono, C. Raharjo., T. Haryati dan Donna, G.
Evaluasi Nilai Nutrisi Pollard Gandum
Terfermentasi dengan Aspergillus nigerNRLL
pada Itik Alabio dan Itik Mojosari. Balai
Penelitian Ternak. Seminar Nasional
Peternakan dan Veteriner. Bogor
DOI:
http://dx.doi.org/10.24014/jupet.v14i1.3396
Refbacks
There are currently no refbacks.
Jurnal Peternakan 
has been accredited by Sinta 3 : Number 158/E/KPT/2021
Starting from Vol. 18 No. 1 Year 2021 to Vol. 22 No. 2 Year 2025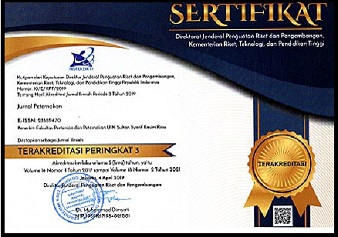 Jurnal Peternakan Indexed By:
Creation is distributed under the 
Creative Commons Attribution 4.0 International License
.
View Mystats