KANDUNGAN FRAKSI SERAT SILASE LIMBAH PISANG (BATANG DAN BONGGOL) DENGAN KOMPOSISI SUBSTRAT DAN LEVEL MOLASES YANG BERBEDA SEBAGAI PAKAN ALTERNATIF TERNAK RUMINANSIA
Abstract
Harvesting bananas will produce stems and stump that can be used as an alternative feed. One processing techniques to
maintain the nutritional value is silage. This study aims to determine the content of the fiber fraction ie. Neutral Detergent Fiber (NDF), Acid Detergent Fiber (ADF), lignin, cellulose and hemicellulose from bananas waste silage with the composition of the substrate and the different levels of molasses.  Research using a Completely Randomized Design factorial pattern with two replications. Factor A : the composition of the substrate, A1. stumps 100% :  stems 0%; A2. 50% stems : 50% stumps; A3. 0% stumps : 100% stems.  Factor B : the addition of molasses  0%; 2.5% and 5%. Data were analyzed using a completely randomized factorial design, the difference between treatments tested Duncan's Multiple Range Test (DMRT). The results showed banana waste silage with the composition of the substrate and molasses with different levels have moderate physical qualities and fiber fractions are NDF 57.86-89.63%; ADF 34.44-46.20%; lignin 11.75-17.19%; cellulose 15.10-32.34%; hemicellulose 11.66-55.18%. Silage that contains 100% of banana stem with the addition of 5% molasses is the best result. 
Keywords
by product, ensilage, ADF, NDF, lignin
DOI:
http://dx.doi.org/10.24014/jupet.v13i1.2385
Refbacks
There are currently no refbacks.
Jurnal Peternakan 
has been accredited by Sinta 3 : Number 158/E/KPT/2021
Starting from Vol. 18 No. 1 Year 2021 to Vol. 22 No. 2 Year 2025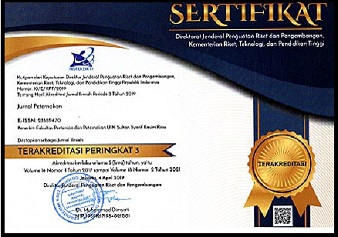 Jurnal Peternakan Indexed By:
Creation is distributed under the 
Creative Commons Attribution 4.0 International License
.
View Mystats