SIFAT FISIK DAGING AYAM PETELUR AFKIR YANG DIRENDAM DALAM EKSTRAK KULIT NENAS (Ananas comosus L. Merr) DENGAN KONSENTRASI YANG BERBEDA
Abstract
The aims of this study were to determine the effect of immersing culled layer chicken meat into the pineapple skin
extract with different concentrations on the water holding capacity (WHC), water content (WC), pH, tenderness, odor and
color. The experimental design was Completely Randomized Design (CRD) with four replications. Treatments were
concentrations of pineapple skin extract which consisted of four levels that is 0%, 15%, 27,5% and 40%, respectively.
Results showed that immersion of culled layer chicken meat into the pineapple skin extract had significant effect (P<0,01) on
WHC, pH, tenderness. The concentration of 27,5% of pineapple skin extract could increase tenderness, decreased WHC and
pH.
Keywords
culled layer chicken meat, pH, pineapple skin extract, WC, WHC
DOI:
http://dx.doi.org/10.24014/jupet.v9i1.163
Refbacks
There are currently no refbacks.
Jurnal Peternakan sudah terakreditasi Sinta 3 Nomor 10/E/KPT/2019
Vol. 14 No. 1 Tahun 2017 sampai Vol. 18 No. 2 Tahun 2021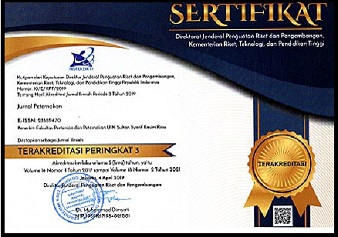 Alamat Redaksi: Fakultas Pertanian dan Peternakan UIN Sultan Syarif Kasim Riau Jl. H.R. Soebrantas KM. 15,5 Panam – Pekanbaru
E-mail: jurnal.peternakan@uin-suska.ac.id/ jpeternakan@uin-suska@yahoo.com
ejournal: http://ejournal.uin-suska.ac.id/index.php/peternakan
Ciptaan disebarluaskan di bawah
Lisensi Creative Commons Atribusi 4.0 Internasional
.
View Mystats