Penambahan Tepung Daun Pepaya Dalam Pakan terhadap Komsumsi, Konversi Pakan dan Pertambahan Bobot Burung Puyuh
Abstract
ABSTRAK. Daun pepaya mengandung protein yang tinggi, kalsium, fosfor, gross energi dan enzim papain, yang berguna untuk meningkatkan palatabilitas dan kecernaan pakan, selain itu daun pepaya juga mengandung papain, flavonoid, saponin, alkaloid, tanin, yang berguna untuk meningkatkan kesehatan, sehingga daun pepaya layak menjadi salah satu sumber bahan pakan alternatif bagi ternak puyuh. Penelitian ini bertujuan untuk mengetahui pengaruh penggunaan tepung daun pepaya dalam pakan terhadap konsumsi, konversi, pertambahan bobot badan dan mortalitas burung puyuh selama 5 minggu pemeliharaan. Penelitian ini dilakukan di Tuweley Tolitoli Sulawesi Tengah pada bulan Oktober sampai dengan Desember 2019, bahan penelitian menggunakan 100 ekor burung puyuh berumur 10 hari, menggunakan Rancangan Acak Lengkap (RAL) 4 taraf perlakuan diulang 5 kali. Susunan perlakuan percobaan yakni: F0 tanpa daun pepaya, F1 5% tepung daun pepaya, F2 10% tepung daun pepaya, dan F3 15% tepung daun pepaya dalam pakan, sebelum perlakuan dilakukan adaptasi pakan selama 7 hari, data hasil penelitian dianalisis menggunakan anova dan uji lanjut BNJ. Hasil penelitian menunjukkan bahwa pemberian tepung daun pepaya hingga 15% tidak berpengaruh nyata terhadap konsumsi pakan tapi berpengaruh nyata terhadap konversi pakan (1,86 – 2,44) dan pertambahan bobot badan (64,27 – 72,74 g) P>0,05. Perlakuan terbaik diperoleh pada perlakuan F3 (penambahan 15% daun pepaya) dalam pakan. 
Kata Kunci: Performans, puyuh, tepung daun pepaya.
Effect of Adding Papaya Leaf Flour in Feed on Consumption Feed, Feed Convertion Ratio and Body Weight Gain of Quail
ABSTRACT. Papaya leaves contain high protein, calcium, phosphorus, gross energy and papain enzymes, which are useful for increasing palatability and digestibility of feed, beside Papaya leaves also contain papain, flavonoids, saponins, alkaloids, tannins, which are useful for improving health, so that the leaves Papaya deserves to be a source of alternative feed ingredients for quail. This study aims to determine the effect of using papaya leaf flour in feed on consumption, conversion, body weight gain and quail mortality during 5 weeks of rearing. This research was conducted in Tuweley Tolitoli, Central Sulawesi from October to December 2019, the research material used 100 quails aged 10 days, using a completely randomized design (CRD) 4 treatment levels repeated 5 times. The arrangement of the experimental treatments were: F0 without papaya leaves, F1, 5% papaya leaf flour, F2 10% papaya leaf flour, F3, 15% papaya leaf flour, before the treatment was adapted to feed for 7 days, the research data were analyzed using ANOVA  and a follow-up test with an honest real difference (HRD). The results showed that the addition of papaya leaf flour up to 15% had no significant effect (5%) on feed consumption and mortality but significantly effect on feed conversion ratio 1.86-2.44 and body weight gain 64.27–72.74g) P>0.05. The best treatment was obtained in the F3 treatment (Addition of 15% papaya leaves) in the feed.
Keywords
Papaya leaf flour, performance, quail
References
Achmaru, Muhagrlien & Salaby. 2011. Pengaruh alas kandang (rapat serta renggang) dan timbangan jantan betina terhadap konsumsi pakan, bobot telur, konversi pakan dan tebal kerabang pada unggas puyuh. Ternak Tropika. 12(2):1-14.
Adashukwu, I P., Ogbonna O, & Eze Faith U. 2013. Phytochemical Analysis of Pau-Pau (Carica Papaya Leaves. Internasional Journal of Life Sciences Biotechnology and Pharma Research. 2(3) :347-351.
Agustina, L. & Purwanti, S. 2012. Ilmu Nutrisi Unggas. Rumah Pengetahuan. Solo.
Amo, M., Saerang, J. L. P., Najoan., M. & J. Keintjem. 2013. Pengaruh penambahan tepung kunyit (Curcuma domestica val) dalam ransum terhadap kualitas telur puyuh (Coturnix-coturnix japonica). Jurnal Zootek. 33(1): 48-57.
Anggitasari S., O. Sjofjan, & I.H. Djunaidi. 2016. Pengaruh Beberapa Jenis Pakan Komersial Terhadap Kinerja Produksi Kuantitatif dan Kualitatif Ayam Pedaging. Buletin Peternakan. 40(3): 187-196.
Anggorodi, R.M. 1985. Ilmu Makanan Ternak Umum. P.T, Gramedia. Jakarta.
Bijanti R. 2008. Potensi Sari Buah Mengkudu (Morinda Citrifolia) Terhadap Kualitas Karkas, Kadar Vitamin C dan Kadar Malonedialdehide (MDA) dalam Darah Ayam Pedaging Potency of Mengkudu (Morinda Citrifolia). Media Kedokteran Hewan. 24(1): 43-48.
Ebenebe, C. I., O. Itefue, T.C. Ebere Ohameje & J.C. Okonkwo. 2011. Fortification of the nutritive value of Mushroom (Termitomyces microcarpus) With Paw-Paw Leaf Meal for Broiler Chick Diet, Pak. J. Nutr. 10(2): 155-158.
Eleazu, C. O., K. C. Eleazu, E. Awa & S.C. Chukwuma. 2012. Comparativestudy of the phytochemical composition of the leaves of five Nigerian medicinal plants. E3 Journal of Biotechnology and Pharmaceutical Research. 3(2): 42-46.
Ensminger. 1992. Poultry Science. Interstate Publishers. Inc. Illinois.
Florana, B., Dihansih, E., & Handarini, R. 2017. Performa Puyuh Periode Starter-Grower Yang Diberi Ransum Imbuhan Mengandung Bawang Putih (Aallium sativum) dan Jintan (Cuminum cyminum). Jurnal Peternakan Nusantara. 3(2): 95-102.
Fransela T., Ch. L. K., Sarajar, M. E. R. Montong, M. & Najoan. 2017. Performans burung puyuh (coturnix – coturnix japonica) yang diberikan tepung keong sawah (Pila ampullacea) sebagai pengganti tepung ikan dalam ransum. Jurnal Zootek. 37(1): 62 – 69.
Heldini, A.P. 2015. Pengaruh penambahan minyak ikan tuna dalam ransum basal terhadap performan ayam broiler. Journal of Rural and Development. 6(1): 69-84.
Imam, A. A., Nurmi, A., & Hasibuan, M. 2017. Pemberian Tepung Daun Pepaya (Carica pa-paya L) Dalam Ransum Terhadap Performans Burung Puyuh (Coturnixcoturnix Javonica). Jurnal Peternakan (Jurnal of Animal Science). 1(2): 28-35.
Irawan, I., D. Sunarti, & L.D. Mahfudz. 2012. Pengaruh pemberian pakan bebas pilih terhadap kecernaan protein burung puyuh (coturnixcoturnix japonica). Animal Agriculture Journal. 1(2): 238-245.
Juarsa, A, Angraeni, & Deden S. 2018. Performa Produksi Telur Burung Puyuh Yang Diberi Larutan Daun Kelor (Moringa oleifera L). Jurnal Peternakan Nusantara. 4 (2): 59-66
Kamaruddin, M. & Salim. 2002. Pengaruh Pemberian Air Perasan Daun Pepaya Pada Ayam: Respon Patofisilogik Ginjal. Jurnal Sain Veteriner. 20 (1): 1– 8.
Karyono, T., Nofrida, H., Herlina, B., & Arifin, M. 2019. Level Ekstrak Daun Pepaya (Carica pepaya L.) dalam Air Minum Terhadap Performans Ayam Arab Jantan Periode Starter. Jurnal Peternakan Indonesia. 21(3): 294-302.
Kusbiyantari., A. Kardaya, D, & Sudrajat, D. 2017. Keefektifan Ekstrak Daun Pepaya Lewat Air Minum dalam Meningkatkan Produksi Telur Puyuh. Jurnal Peternakan Nusantara. 3(1): 30-38.
Nuraini, Sabrina & Latif. S. A. 2012. Fermented Product by Monacus Purpureus in Poultry Diet Effects on Laying Performance and Egg Quality. Pakistan Journal of Nutrition. 11(7): 507- 510.
Onyimonyi, A. E. and E. Onu.2009. Anassessment of Paw-Paw Leaf Meal as Protein Ingredient for Finishing Broiler, Intern. J. Poultry Sci. 8(10): 995-998.
Palupi. R., Sahara.E., & Purwoto. 2016. Level Tepung Kulit Ubi Kayu Fermentasi dalam Ransum terhadap Performa Produksi Puyuh Umur 1 - 8 minggu. Jurnal Peternakan Sriwijaya. 5(1):10-17.
Patri, S. K., Montong M.E.K., Sarayar CLK, & Saerang JLP. 2014. Penambahan Akar Kunyit (Curcuma Domestica val), Temulawak (curcuma xanthorriza roxb) dan Rimpang Temu Putih (curcuma zedoaria rosc) dalam ransum komersil performans burung puyuh (coturnix-coturnix japanica). Jurnal Zootek. 34(1): 114-123.
Qurniawan, A., I.I. Arief, & R. Afnan. 2016. Performans Produksi Ayam Pedaging pada Lingkungan Pemeliharaan dengan Ketinggian yang berbeda di Sulawesi Selatan. Jurnal Veteriner. 17(4): 622-633.
Rasyaf, M., 2004. Beternak Ayam Petelur. Penerbit Penebar Swadaya, Jakarta.
Santoso, U., Y. Fenita, & T. Suteky. 2012. Effects of Supplementation of Alkaloid and Non Alkaloid from Sauropus androgynus Leaves on Egg Production and Lipid Profil in Layer Chickens. Journal of Animal Production. 12(3): 184-189.
Sany, S.W., Heswantari, S. R., Sudibya, Punormo, S.H, & Aqni Hanifa. 2015. Pengaruh suplementasi minyak ikan dan l- karnitin dalam pakan jagung kuning terfermentasi terhadap kecernaan pakan dan performa puyuh (Coturnix-coturnix japonica). Buletin Peternakan. 39(1): 31-41.
Sudjatinah., C. H., Wibowo, & Widiyaningrum, P. 2005. Pengaruh Pemberian Ekstrak Daun Pepaya Terhadap Tampilan Produksi Ayam Broiler.Jurnal Indon Trop. Anim. Agric. 30(4): 224-228.
Sudrajat, D., Kardaya & Puteri. 2002. Performa produksi telur burung puyuh yang diberi ransum mengandung kromium organik. JITV. 19(4): 257-262.
Sunarno. 2004. Potensi Burung Puyuh Majalah Poultry Indonesia Edisi Februari. Hal: 61.
Syadik, F. 2017. Produktivitas Ternak Ayam Kampung Super Terhadap Ransum Tepung Buah Nipah (Nypah fruticans Wurmb) Deangan Level yang Berbeda. Jurnal AgroPet. 14(1): 38-47.
Thomas, A. N. S., 1989. Tanaman Obat Tradisional. Kanisus. Yogyakarta.
Unigwe, C. R., U.P. Okorafor, U.M. Ogbu, & O.C. Nwufoh. 2014. The Nutritive Profile of sun-dried Pawpaw (Carica pepaya) Leaf Meal and its Effect on the Growth Performance of Broiler Chickens. Int. J. Pure Appl. Sci. Technol. 20(2): 72-78.
Vernet, T., Berti, P. J., de Montigny, C., Musil, R., Tessier, D. C., Ménard, R., & Thomas, D. Y. 1995. Processing of the papain precursor: the ionization state of a conserved amino acid mo-tif within the pro region participates in the regulation of intramolecular processing. Jour-nal of Biological Chemistry. 270(18): 10838-10846.
Widjastuti, T. 2009. Pemanfaatan Tepung Daun Pepaya (Carica Pepaya L.) Dalam Upaya Peningkatan Produksi dan kualitas Telur Ayam Sentul. J. Agroland. 16(3): 268- 273.
Yunus, A. 2013. Meraup Untung Budidaya Ayam Arab. Penerbit Pustaka Baru Press. Yogyakarta.
Zahra, A. A., D. Sunarti, & E. Suprijatna. 2012. Pengaruh pemberian pakan bebas pilih (Free choice feeding) terhadap performans produksi telur burung puyuh (Coturnix coturnix japonica). Animal Agricultural Journal. 1(1): 1–11.
DOI:
http://dx.doi.org/10.24014/jupet.v19i1.14098
Refbacks
There are currently no refbacks.
Jurnal Peternakan 
has been accredited by Sinta 3 : Number 158/E/KPT/2021
Starting from Vol. 18 No. 1 Year 2021 to Vol. 22 No. 2 Year 2025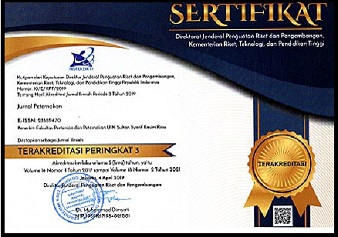 Jurnal Peternakan Indexed By:
Creation is distributed under the 
Creative Commons Attribution 4.0 International License
.
View Mystats