Kurva Pertambahan Bobot Badan Domba Garut Jantan Umur 13-16 Bulan yang Diberi Ransum pada Imbangan 60% Hijauan dan 40% Konsentrat
Abstract
ABSTRAK. Penelitian bertujuan untuk mengetahui kurva pertambahan bobot badan domba Garut jantan umur 13-16 bulan yang diberi ransum pada imbangan 60% hijauan dan 40% konsentrat. Penelitian menggunakan metode penelitian korelasional. Ternak yang digunakan pada penelitian ini sebanyak 8 ekor. Data yang diperoleh dianalisis menggunakan Curve Expert. Hasil penelitian menunjukan bahwa kurva pertambahan bobot badan domba Garut jantan umur 13-16 bulan relatif menurun dan masuk ke fase pertumbuhan lambat dengan model kurva terbaik untuk kurva pertambahan bobot badan yakni model Polynomial pada persamaan y = 81,676 + 6,612x + (-2,062x2) + 0,201x3 + (-0,00669x4) dengan nilai standar error (SE) 0,498, koefisien korelasi (r) 0,997 dan koefisien determinasi (R2) 0,994. 
Average Daily Gain Curve of 13-16 Months Old Male Garut Sheep Fed Ration with 60% Forage and 40% Concentrate
ABSTRACT. The aim of this study was to determine the average daily gain (ADG) curve of male Garut sheep aged 13-16 months which were given rations at a 60% forage and 40% concentrate. The study uses correlational research methods. There were 8 sheeps used in this study. The data obtained were analyzed using Curve Expert. The results showed that the ADG curve of 13-16 months old male Garut sheep relatively decreased and entered the slow growth phase with the best curve model for the ADG curve was the Polynomial model in the equation Y = 81.676 + 6.612 X + (-2.062X2) + 0.201X3 (-0.00669X4) with a standard error value (SE) 0.498, a correlation coefficient ( r ) 0.997 and a coefficient of determination (R2) 0.994.
Keywords
Domba Garut jantan, kurva pertambahan bobot badan, ransum
References
Badan Standarisasi Nasional (BSN). 2015. SNI 7532.1:2015 Bibit Domba – Bagian 1: Garut. Badan Standarisasi Nasional. Jakarta.
Bukhori, I , R. Aka, & T. Saili. 2017. Pola pertumbuhan kambing Kacang jantan di Kabupaten Konawe Selatan, Jurnal Ilmu dan Teknologi Peternakan Indonesia 4 (3) : 34-41.
Dhuhitta, A.M., S. Dartosukarno & A. Purnomoadi. 2014. Pengaruh jumlah pakan yang berbeda terhadap kondisi fisiologi kambing Kacang. Animal Agriculture Journal 3(4): 569-574.
Hernaman, I., B. Ayuningsih, D. Ramdani, M. Maisarah, & Siswoyo. 2018. Performance of female Garut lambs fed diet in different ratio of protein and total digestible nutrients. Jurnal Veteriner 19 (4) : 568-573.
Ilham, F. 2008. Karakteristik Pertumbuhan Pra dan Pascasapih Domba Lokal di Unit Pendidikan dan Penelitian Peternakan Jonggol Institut Pertanian Bogor (UP3J-IPB). Tesis. Sekolah Pascasarjana. Institut Pertanian Bogor. Bogor. 62.
Kusmayadi, T & R. Aryanto. 2018. Bobot badan dan ukuran tubuh sapi perah betina fries holland di wilayah Desa Cipangramatan Kecamatan Cikajang Kabupaten Garut. Jurnal Ilmu Peternakan (JANHUS), 3 (1): 29-38.
Muizu, W.O.Z, S.N. Evita & D. Suherman. 2016. Disiplin kerja dan pengaruhnya terhadap kinerja pegawai negeri sipil. Pekbis Jurnal, 8 (3) : 172-182.
Putra, . W.P.B., Sumadi, T. Hartatik, & H. Saumar. 2018. Pendugaan model kurva pertumbuhan berat badan pada Sapi Aceh (Bos indicus). Jurnal Ilmu dan Teknologi Peternakan Indonesia 4 (1): 166-171.
Rusdiana, S & U. Adiati. 2020. Perbanyakan dan penyebaran bibit ternak domba compass agrinak mendukung perekonomian peternak. Jurnal Sain Peternakan Indonesia, 15 (1): 67-74.
Salman, L.B., R.R. Noor, A. Saefuddin & C. Talib. 2012. Comparison on accuracy of logistic, gompertz and von bertalanffy models in predicting growth of new born calf until first mating of holstein Friesian heifers. J. Indonesian Trop. Anim. Agric. 37(3) : 151-160.
Somanjaya, R., U. I. L. Rahmah, & U. Dani. 2016. Performa dan daya cerna domba Garut jantan terhadap penambahan fermentasi limbah hijauan sorgum ke dalam ransum. Jurnal Pertanian 2 (2): 147-162.
Tariq, M.M., F. Iqbal, E. Eyduran, M.A. Bajwa, Z.E. Huma & A. Waheed. 2013. Comparison of non-linear functions to describe the growth in Mengali sheep breed of Balochistan. Pakistan J. Zool. 45(3) 661-665.
Teleken, J.T., A.C. Galvão & W.S. Robazza. 2017. Comparing non-linear mathematical models to describe growth of different animals. Acta Sci., Anim. Sci. 39 (1) 73-81.
Usman Y., E.M. Sari, & N. Fadilla. 2013. Evaluasi pertambahan bobot badan sapi aceh jantan yang diberi imbangan antara hijauan dan konsentrat di Balai Pembibitan Ternak Unggul Indrapuri. Agripet 13 (2) : 41-46.
Wijaya, G.H., M. Yamin, H. Nuraini & A. Esfandiari. 2016. Performans produksi dan profil metabolik darah domba Garut dan Jonggol yang diberi limbah tauge dan omega-3. Jurnal Veteriner 17 (2) : 246-256.
DOI:
http://dx.doi.org/10.24014/jupet.v18i2.13211
Refbacks
There are currently no refbacks.
Jurnal Peternakan 
has been accredited by Sinta 3 : Number 158/E/KPT/2021
Starting from Vol. 18 No. 1 Year 2021 to Vol. 22 No. 2 Year 2025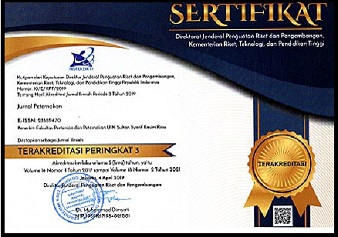 Jurnal Peternakan Indexed By:
Creation is distributed under the 
Creative Commons Attribution 4.0 International License
.
View Mystats