Strategi Kebijakan Pengembangan Sapi Potong Rakyat di Kecamatan Ringinrejo Kabupaten Kediri
Abstract
ABSTRAK. Penelitian bertujuan untuk menentukan strategi dan membentuk kebijakan yang bersifat win-win solution dalam mengembangkan usaha sapi potong rakyat di Kecamatan Ringinrejo Kabupaten Kediri. Analisis data yang digunakan dengan metode kuantitatif yaitu dengan menggunakan IFAS dan EFAS yang dilanjutkan dengan AHP (Analisis Hierarchy Process). Hasil penelitian menunjukkan pada kuadran III sehingga perlu membuat ulang strategi yang pernah dilakukan oleh stakeholders dalam mengembangkan usaha sapi potong, karena faktor internal memiliki kelemahan yang banyak dibandingkan dengan kekuatan yang ada, namun peluang yang ada dapat mengurangi ancaman dalam mengembangkan usaha. Hasil tersebut diperoleh 4 strategi antara lain dari startegi S-O bahwa perlu membangun kerjasama dengan peternak besar yang memiliki manajemen teknis pemeliharaan sapi potong yang sudah baik dan tingkat produktifitas usaha tinggi, strategi W-O memperbaiki hubungan peternak dengan lembaga pemerintah pusat melalui peningkatan aparatur dari modal sosial dengan memberikan bantuan ternak, teknis pemeliharaan sesuai dengan yang dibutuhkan peternak, strategi S-T bergabung dengan kelompok ternak feedloting sebagai pemasok sapi yang akan di feedlot sehingga mampu menjual ternak tanpa blantik (peternak sekaligus blantik) dan strategi W-T yaitu bekerjasama dengan peternak feedlot dengan produktifitas tinggi untuk meningkatkan trust. Analisis AHP dilakukan untuk menentukan prioritas strategi yang telah dibuat sehingga hasilnya dapat mendukung strategi agar peternak rakyat bergabung dengan kelompok ternak feedloting sebagai pemasok sapi yang akan di feedlot.
Strategy of Beef Cattle Development Policy at Ringinrejo Sub-District Kediri Regency
ABSTRACT. Objectives of the research were to determine strategy and establish win-win solution policy in developing beef cattle business at Ringinrejo Sub-district, Kediri Regency. Data analysis used quantitative method by using IFAS and EFAS, and then followed by AHP (Analysis Hierarchy Process). Results of the research showed that on Quadrant III, so that it requires to reconstruct the strategy, which has been performed by the stakeholders in developing the beef cattle business, due to internal factors have more weaknesses than the strength, but the existed opportunity could minimize any threat in developing the business. It results 4 strategies that include strategy S- O, which requires to establish cooperation with the big farmerss who have already owned excellent technical management in breeding and high productivity; strategy W-O improves mutual cooperation between the farmers and central governmental institution through the increasing apparatus from social capital by offering cattle assistance, technique of maintenance that conforms to the breeders need; strategy S-T is joining with the group of feedloter as cattle supplier that is going to be feedlot, so that they will be able to sell the cattle without any middleman and strategy W-T is joining and cooperating with the feedloter who have high productivity in order to increase trust. In order to give priority on strategies, it followed by AHP analysis, the result showed that the breeders will join with the group of feedloting farmers as cattle supplier (feedloter).
Keywords
AHP, kebijakan, pengembangan, sapi potong, strategi.
References
Atem dan N. Niko. 2020. Persoalan Kerawanan Pangan pada Masyarakat Miskin di Wilayah Perbatasan Entikong (Indonesia-Malaysia) Kalimantan Barat. Jurnal Surya Masyarakat. 2(2) : 94-104.
Badan Pusat Statistik. 2018. Populasi Sapi Potong Menurut Kabupaten/Kota di Jawa Timur Tahun 2009-2017.
Badan Pusat Statistik. 2019. Ternak Menurut Kabupaten/Kota Daerah Provinsi Jawa Timur, 2017-2018.
Badan Pusat Statistik. 2020. Kecamatan Ringinrejo dalam Angka 2020.
Dirjen Peternakan dan Kesehatan Hewan. 2019. Pedoman Pelaksanaan Upaya Khusus Percepatan Peningkatan Populasi Sapi dan Kerbau Bunting Tahun Anggaran 2019. SK No. 189/KPTS/PK.210/F/2019.
Kementrian Perdagangan. 2013. Analisis Faktor- Faktor yang Mempengaruhi Harga Eceran Daging Sapi Dalam Negeri. Makalah. Pusat Kebijakan Perdagangan Dalam Negeri Badan Pengkajian dan Pengembangan Kebijakan Perdagangan.
Kementrian Pertanian. 2016. Upaya Khusus Percepatan Peningkatan Populasi Sapi dan Kerbau Bunting. No. 48/Permentan/PK.210/10/2016.
Kementrian Pertanian. 2017. Perubahan Atas Peraturan Menteri Pertanian Nomor 49/Permentan/Pk.440/10/2016 Tentang Pemasukan Ternak Ruminansia Besar Ke Dalam Wilayah Negara Republik Indonesia. No 2/Permentan/Pk.440/2/2017.
Pemerintah Kabupaten Kediri. 2014. Kabupaten
Profil Kediri. https://www.kedirikab.go.id/index.php?opti
on=com_content&view=article&id=1526&Ite mid=987.
Rusdiana dan Soeharsono. 2017. Program Siwab Untuk Meningkatkan Populasi Sapi Potong dan Nilai Ekonomi Usaha Ternak. Forum Penelitian Agro Ekonomi. 35(2) : 125-137.
Saediman, H., M.A. Limi., dan Y.Indarsyih. 2015. Aplikasi SWOT-AHP untuk Mengalisis Faktor- Faktor yang Mempenbgaruhi Pengembangan Komoditas Padi Sawah di Provinsi Sulawesi Tenggara. Prosiding Seminar Nasional Agribisnis. Kendari: 9 Maret 2015. Hal: 416- 426.
Sopiyana, S. 2006. The Analysis of Application of Technical Management on Various Small Holder Dairy Farm Scale in Garut Regency West Java. Animal Production. 8(3) : 216-225.
Sugiyono. 2016. Metode Penelitian Kuantitatif, Kualitatif, dan R&D. Alfabeta. Bandung.
Utsalina, D.S., dan L.A. Primandari. 2020. Analisis SWOT dalam Penentuan Bobot Kriteria pada Pemilihan Strategi Pemasaran Menggunakan Analytic Network Process. Jurnal Ilmiah Teknik Informatika. 14(1) : 41-50.
Yastini, N.N. 2010 . Masalah Yang dihadapi Kelompok Ternak dalam Mengembangkan Agribisnis Ternak Sapi. Jurnal DWIJENAGRO. 1(1):49-55.
DOI:
http://dx.doi.org/10.24014/jupet.v18i2.13203
Refbacks
There are currently no refbacks.
Jurnal Peternakan 
has been accredited by Sinta 3 : Number 158/E/KPT/2021
Starting from Vol. 18 No. 1 Year 2021 to Vol. 22 No. 2 Year 2025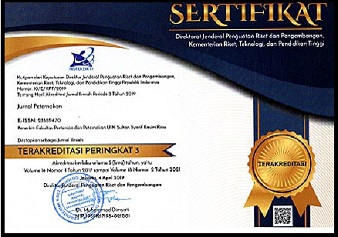 Jurnal Peternakan Indexed By:
Creation is distributed under the 
Creative Commons Attribution 4.0 International License
.
View Mystats