Indonesian Journal of Islamic Educational Management (E-ISSN 2615-4242 dan P-ISSN 2615-3610) is published by Department of Management of Islamic Education, Faculty of Education and Teacher Training, State Islamic University of Sultan Syarif Kasim Riau in cooperation with Perkumpulan Program Studi Manajemen Pendidikan Islam (PPMPI) Indonesia. This journal is published twice a year, in April and October.
This journal encompasses research articles, original research report, reviews in Islamic education in any fields including: 1) Leadership, 2) Public Relation Management, 3) Organizational Behavior, 4) Organizational Culture, 5) Human Resource Management, 6) Financial Management, 7) Decision Making.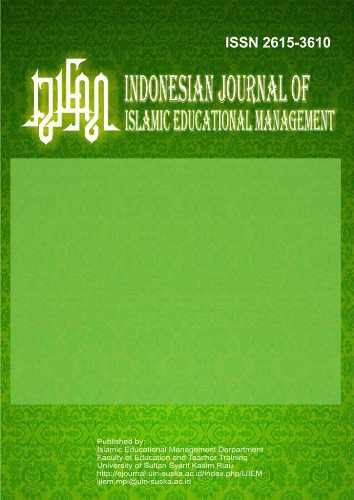 Announcements
No announcements have been published.
Vol 5, No 2 (2022): IJIEM
Table of Contents
Articles