Indonesian Journal of Islamic Educational Management (E-ISSN 2615-4242 dan P-ISSN 2615-3610) is published by Fakultas Tarbiyah dan Keguruan Universitas Islam Negeri Sultan Syarif Kasim Riau in cooperation with Perkumpulan Program Studi Manajemen Pendidikan Islam (PPMPI) Indonesia. This journal is published twice a year, in April and October.
This journal encompasses research articles, original research report, reviews in Islamic education in any fields including: 1) Leadership, 2) Public Relation Management, 3) Organizational Behavior, 4) Organizational Culture, 5) Human Resource Management, 6) Financial Management, 7) Decision Making.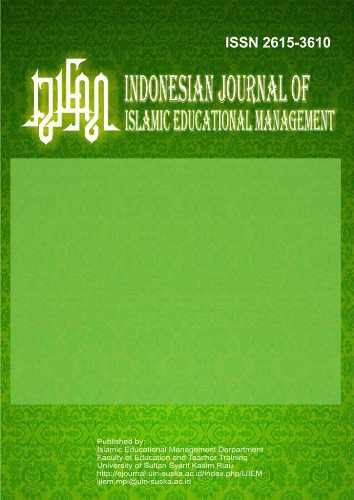 Announcements
No announcements have been published.
Vol 6, No 2 (2023): IJIEM
Table of Contents
Articles