Trend Tema Penelitian Tugas Akhir Mahasiswa Pendidikan Kimia FTK UIN SUSKA Riau (2006-2017): Sebuah Kajian Kasus
Abstract
Visi dan Misi UIN Suska Riau 2023 serta isu strategis yang sedang berkembang di UIN Suska Riau, yaitu "integrasi keilmuan dan keislaman" (mengintegrasi sains dan teknologi serta seni dengan nilai-nilai keislaman menuju world class university). Untuk melihat sejauhmana usaha dalam mencapai visi misi universitas. Maka peneliti ingin melihat bagaimana trend tema penelitian-penelitian di pendidikan kimia di Fakultas Tarbiyah dan Keguruan di UIN Suska Riau. Penelitian dilaksanakan di jurusan pendidikan kimia Fakultas Tarbiyah dan keguruan UIN Suska Riau pada tahun 2017. Dengan objek kajian adalah alumni jurusan pendidikan kimia FTK UIN Suska Riau berdasarkan analisis data di jurusan Pendidikan kimia. Penelitian ini merupakan penelitian Evaluasi Program dengan Model CIPP menggunakan desain survey (survey design). Hasil analisis penelitian tema pendidikan diatas dapat diketahui mahasiswa jurusan pendidikan kimia uin suska riau banyak sekali menelitian tentang hasil belajar dan prestasi belajar meskipun kenyataannya masih belum duduk arti sesungguhnya dari kedua hal tersebut, ditambah lagi penggunaan model pembelajaran kooperatif sudah terlalu sering dan banyak serta membuktikan untuk ketiga variabel ini. Sehingga perlu, adanya FGD tindak lanjut untuk para guru dan mendatangkan pakar pakar pendidikan berkenaan dengan tema-tema penelitian pendidikan hal ini akan menambah wawasan dosen dan secara tidak langsung ke mahasiswa untuk menghasilkan penelitian yang lebih berkualitas dan mantap. Implikasi dari penelitian ini, Penelitian ini berguna bagi peningkatan perubahan-perubahan penelitian yang penting untuk menjadi asas dan dasar bagi mahasiswa selanjutnya agar penelitian selanjutnya lebih mantap dan beragam
References
Alqur'an dan Terjemahannya
Anderson, L. W., & David R. Krathwohl, D. R., et al. .2001. A Taxonomy for Learning, Teaching, and Assessing: A Revision of Bloom's Taxonomy of Educational Objectives.
Allyn & Bacon. Boston, MA (Pearson Education Group).
Bahrul Hidayat & Suhendra Yusuf. 2010. Benchmark Internasional Mutu Pendidikan. Jakarta: Bumi Aksara.
Chang, Y-H, Tseng, Y-H, and Ye, C. 2010. Trends of Science
Education Research: An Automatic Content. Analysis. J Sci Educ Technol 19, 315–331
Chua, Y., P. 2006. Asas Statistik Penyelidikan1. Mc Graw-Hill sdn. Bhd. Malaysia.
Creswell, J., W. 2012 Educational Research: palnning, conducting abd evakuating quantitative dan qualitative research (4th ed.). Boston; Pearson Education, Inc.,
DeHaan, R.L. 2011. Education research in the biological sciences: A nine decade review. BER_RLD_final (1-18-11). Emory University.
De Jong. 2007. Research And Teaching Practice In Chemical Education: Living Apart Or Together. Chemical Education International 6 (1), 1-6.
Dick, W. & Carey, L. 1985. The systematic design of instruction. (2nd ed.). Glenview, IL: Scott, Foresman & Co.
Diknas 2009. Rancangan Strategis Departemen Pendidikan Nasional Tahun 2010-2014. Jakarta: Departemen Pendidikan Nasional.
Evi suryawati, 2015. Pengembangan model peningkatan kompetensi dan daya saing lulusan mipa lptk berbasis kkni dan kerangka tpck. Stranas.
Firdaus L.N. dan Raja Hussien Arief. 2014. Trend 25 Tahun (1988-2012) Penelitian Tugas Akhir Mahasiswa Pendidikan Biologi Fkip Universitas Riau. Jurnal Biogenesis, Vol. 10, Nomor 2
Gonzales, P., Williams, T., Jocelyn, L., Roey, S., Kastberg, D., and Brenwald, S. 2008. Highlights From TIMSS 2007: Mathematics and Science Achievement of U.S. Fourth- and Eighth-Grade Students in an International Context (NCES 2009–001). National Center for Education Statistics, Institute of Educationn Sciences, U.S. Department of Education. Washington, DC.
Jenkin, E. W., 2001. Research in science education in Europe: Retrospect and prospect. In H. Behrendt, H. Dahncke, R. Duit, W. Graeber, M. Komorek, A. Kross & P. Reiska, (Eds.). Research in Science Education – Past, Present, and Future. Dordrecht: Kluwer Academic Publishers.
Salpeter.J. 2008. 21st Century Skills: Will Our Students Be
Prepared?.http://www.techlearning.com/article/13832 .[ 20 oktober 2011].
Tan, O.S., 2003. Problem-Based Learning Innovation:Using Problem to Power Learning in the 21st Century.Singapore: GALE Cengage Learning.
Terry Barret and sarah moore. 2011. New Approaches to Problem-Based Learning.
Revitalising your Practice in Higher Education. Taylor & francis group: new
York and London.
Vebrianto, R., & Osman. K. (2011) The effect of multiple media instruction in improving students' science process skill and achievement.sciencedirect. Procedia Social and Behavioral Sciences 15 346–350
Vebrianto, Radjawaly Reri Kamisah Osman.2016. Biomind Portal For Developing 21st Century Skills And Overcoming Students' Misconception In Biology Subject. IGI Global, IJDET International journal of distance education.
White, R. 1997. Trends in research in science education. Research in Science Education, 27(2), 215-221
Widodo, A. 2009. Gambaran penelitian pendidikan biologi: perkembangan penelitian di Jurusan Pendidikan Biologi FPMIPA UPI. Asimilasi 1(1),54-61.
DOI:
http://dx.doi.org/10.24014/jnsi.v1i1.5182
Refbacks
There are currently no refbacks.

Journal of Natural Science and Integration
P-ISSN 2620-4967 | E-ISSN 2620-5092
Published by:
Program Studi Tadris IPA Fakultas Tarbiyah dan Keguruan
Universitas Islam Negeri Sultan Syarif Kasim Riau
Alamat Redaksi:
Jl. H.R. Soebrantas KM 15,5, Tuah Madani, Tampan,
Pekanbaru, Riau, Indonesia 28293
email: jnsi.tadrisipa@uin-suska.ac.id
CP: 081371832911-085365094688
Indexed by: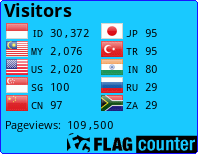 Journal of Natural Science and Integration is licensed under a Creative Commons Attribution 4.0 International License.